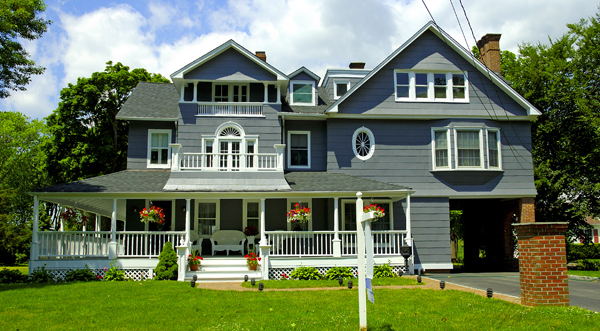 Home exteriors are trending toward sophisticated and sometimes surprising color schemes.
By Tammy Adamson-McMullen
If you're planning to paint the exterior of your home this summer and are struggling in your color selection, take heart. There are so many beautiful exterior color schemes at present—trending from East to West—that you're sure to find one that suits your tastes and the style of your home.
In general, simple monochromatic color schemes are giving way to sophisticated multi-color schemes, with complex colors being used with neutrals in pleasing-to-the-eye ways. Slate grays, stone, wheat, sable brown, blue-greens and olive are among the top siding colors this year. These often are paired with soft neutrals for the trim, such as white, cream or gray, as opposed to the more colorful trim hues of the past.
White homes haven't gone away, but they usually have an unexpected dark color somewhere within the scheme. One of the more popular looks combines soft white for the main house color with dark charcoal for the window and door casements.
Pastels also are on the rise. Very light in tone, they usually appear with neutral trim colors. Whispery blue, light lavender and buttery yellow are popular pastels for siding, often paired with a soft white for the trim. Pastels also work well as shutter and accent colors.
And what about doors? This is where current color schemes are getting really interesting! It's not unusual to see a complex color scheme offset by a bright door color—for example, a wheat-colored siding paired with creamy white trim and accented by a bright aqua door, with the shutters sometimes painted in the same pop of color. When used in the right hues and intensities, a color scheme of this type not only looks well-designed but also has massive curb appeal.
Another trend is to paint garage doors in a trim or accent color, rather than the same color as the siding. This look works particularly well for larger homes that can stand a bit of color breakup. And increasingly homeowners are making their porches stand out, too, by painting porch floors in a coordinating but darker color than the siding. This technique not only adds more complexity to the color but also helps to define the porch area as an outdoor living space.
It's important to remember that the best color schemes suit the style of the home. Brighter color schemes work well with contemporary exteriors, while complex colors and neutrals work well with in more traditional settings. In choosing your scheme, you also may want to consider colors that complement the homes of your neighbors as well as any architectural elements on your property, such as a brick or stonework (although brick and stonework can be painted, too).
What follows are some color scheme ideas for siding, trim, accents—shutters, casements, dormers and eaves, etc.—and doors. For additional schemes that may be unique to your particular region or locale, check with your local paint dealer.
| | | | | | | |
| --- | --- | --- | --- | --- | --- | --- |
| Siding | | Trim | | Accents | | Door |
| Complex Gray | | Soft White | | Darker Gray | | Deep Red or Lavender |
| Wheat | | Soft White | | Aqua | | Aqua |
| Sable Brown | | Cream | | Deeper Brown | | Rusty Red |
| Buttery Yellow | | White | | Black | | Black |
| Stone Beige | | Creamy White | | Marine Blue | | Creamy White or Marine Blue |
| Light Taupe | | Creamy White | | Olive | | Olive |
| Marine Blue | | Soft White | | Stone Beige | | Soft White |
| Whispery Blue | | White | | Whispery Blue | | Bright Yellow |
| Light Almond | | Bright White | | Deep Sable | | Deep Sable |
| Soft White | | Light Gray | | Dark Charcoal | | Dark Charcoal |
| Barely Grayed White | | Barely Grayed White | | Whisper Blue | | Bright Red |
| Light Sage | | White or Cream | | Deep Sage | | Deep Sage or Teal |