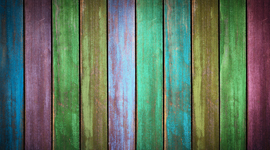 Tap into your creativity to create the desired effect.
One of the most elegant faux finishes that a do-it-yourselfer can create is a color wash. This basic faux technique can add vibrancy, depth and visual interest to an otherwise plain wall. To create the technique, you simply apply a thin layer of glazing over your base coat of paint to give the surface a subtle layered effect. While it may seem easy, taking the time to perfect your technique can allow you to create gorgeous, one-of-a-kind effects for a focal wall, a ceiling or an entire room.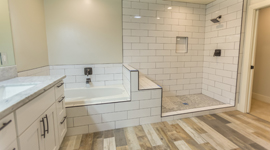 Everyone loves the look of wood—and there is more than one way to achieve it.
Hardwood floors are one of the hottest trends in home decorating, desirable for its good looks, durability, easy cleanup and so many other benefits. However, the cost of real hardwood doesn't always fit with a homeowner's budget. And for homeowners with pets or young children, real hardwood can be difficult to protect and maintain.
Fortunately, there is more than one way to achieve a wood look. Laminate, resilient and porcelain tile all have wood-look options that offer many of the benefits of real wood and avoid some of its drawbacks. Here's a comparison of the products—including the real thing—to help you decide which one is best for you and your home.