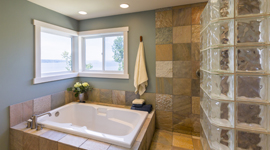 Bathrooms are not what they used to be! They're now one of the most luxurious rooms in the home.
By Tammy Adamson-McMullen
What is the most luxurious room in your home? If you named your bathroom, then you're perfectly on-trend. Bathrooms increasingly are more spa-like—dreamy places of Zen where homeowners can decompress, relax and rejuvenate.
This spa trend is so important that it has driven bathrooms into the No. 2 spot in real estate. After the kitchen, well-designed bathrooms are at the top of home shoppers' wish list, where they hope to see luxurious finishes, fixtures and features that speak to their sense of comfort.
While the look is definitely high-end, achieving a spa-like environment isn't as difficult as you might imagine. A key is to select colors and textures derived from nature and to use a light hand when decorating. Spa bathrooms are minimalistic and rely on the quality of a few well-selected elements for success.
Finishes
Paint: Spa-like bathrooms depend on colors from sea and sky, such as light blue, blue-greens, sage, light lavender, sandy beige, stone, grays and whites. Spa colors tend to be light and soft in hue; however, a pleasing effect can be created by painting an accent wall in a more saturated color. One warning: Don't overdue the accent color, as the main color should represent no less than 70 percent of the bathroom surface area. Additionally, when choosing paint colors, pay attention to existing shower and bathtub surrounds. Make sure paint colors complement or coordinate with tile and laminates in those areas.
Wallpaper: There are so many wallpaper patterns that work with a spa theme! Choose patterns that have a subtle hand and are not too "busy." Wallpapers with light tone-on-tone effects—a cream-colored image on a white background, for example—are perfect choices for a spa bathroom. So are Asian-inspired images, soft florals, airy geometrics and solid textured papers, such as grasscloth. You can wallpaper the entire bathroom or just an accent wall, to break up paint color.
Floors: Stone tile flooring is one of the most popular elements in a spa bathroom, with the tiles usually matching or coordinating with those in the shower or tub area. If you worry about slipping on wet stone, choose a tile with texture—such as a chiseled, tumbled or bush-hammered travertine. Wood is another great option for a spa bathroom; however, you won't want to use the real thing, which can be easily water-damaged. Opt instead for stone tile that mimics wood or go with resilient wood flooring. Resilient wood products, which are water-resistant, and in some cases entirely waterproof, come in a variety of colors and textures. Special effects, like distressed or bleached wood, also are available.
Countertops—Stone and stone-like countertops are a critical component in a spa bathroom (and expected by potential home buyers). Marble, granite, quartz and stone composites are all popular, as is concrete. Concrete can be tinted any number of colors and even inlaid with natural materials, like shells or small stones. If your budget doesn't allow for a stone or concrete counter, choose a laminate that is neutral in color and/or natural in appearance.
Fixtures
Shower Systems and Faucets—Shower systems with rain and waterfall heads, hand-held wands and temperature controls offer the ultimate in spa comfort. When choosing a shower system, purchase the best quality you can afford, which will last longer and add to the value of your home. The same is true for sink faucets, which get a lot of use and abuse. Generally speaking, stainless and chrome finishes work well with grays and cool blues. Brushed gold finishes work well with stone colors and warm greens. Regardless, the shower and sink fixtures should match.
Mirrors—The mirrors you select depend largely on your preferences and the look you want to achieve. You can choose mirrors with a metallic frame that matches the finishes of your shower system and sink faucets. Or you can choose a wood frame that matches cabinetry within the room. Or you can forego a frame altogether for a more minimalist look. If you go with one of the first two options, keep the frame as simple as possible to avoid clutter.
Features
To enhance the ambiance of your spa, try adding:
Window treatments in natural materials, such as grasscloth, jute, bamboo or jute
Woven baskets to hold wash cloths, soaps, shampoos and similar items
Scented soaps and candles for aromatherapy benefits
An indoor fountain as a water feature
Smooth river stones—place them in a corner of the counter or, better yet, in the bottom of the sink to create the gurgling sounds of a flowing stream as you wash.
Woven teak wood or bamboo slatted bath mats
A potted plant or two—preferably tropical, to withstand the humidity. Aloe, bamboo and ferns are good choices.