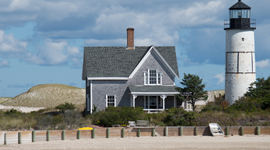 How to achieve a great decorating style for your coastal home—or even if you live inland!
By Diane Franklin
Life's a beach—or it can be, if you want to decorate that way. Coastal living is both a lifestyle and a decorating style. You can even create a coastal décor if you live inland.
Currently about 45 percent of the U.S. population lives in a coastal community. The appeal of the sun, the sand and the surf is just too strong to be denied. Since Americans are "going coastal," it makes sense to decorate that way. And if you don't live near the coast, but long to, you can bring a little bit of a coastal feel to your home décor even if an actual beach is more than a short drive away.
Colors to Consider
Your first consideration in achieving a coastal décor is to pick colors that are consistent with that lifestyle. Coastal colors are clean, clear, light and airy. Think crisp whites, seafoam green, watery blues, driftwood grays, peachy corals and sandy yellows. To add some pizzazz, you can go nautical with deep navy or vibrant red.
Contrasting colors make for a visually interesting decorating motif. For instance, colorful throw pillows on a light- or neutral-colored sofa are a great way to be consistent with the light but lively theme of the decorating style. Colorful accessories in a coastal color scheme also make a living space come alive.
Patterns
Coastal patterns borrow heavily from the surrounding seashore environment. Shells, fish, sailboats, birds, swirly ocean waves, palm trees and other wide-leaf plants are popular themes for fabrics, wallpaper and artwork. But if you don't want to be too "on the nose" with your decorating patterns, consider other popular patterns such as stripes or geometrics, which look great in a coastal living setting on anything from throw pillows to accent chairs to bed linens.
Furniture
Furniture for a coastal living motif is typically lightweight and in styles leaning more toward modern or transitional. Furniture with thin rather than thick legs, with pleasing curves and plush cushions work well in a coastal living motif. Wicker furnishings—i.e., sofas, chairs, tables and bookcases—are also a popular choice, as are glasstop coffee tables, dining tables and end tables.
Floors and Windows
One of the best aspects of coastal living, of course, is the view. So, you don't want to use window coverings that are heavy or obstructive. Lightweight drapery panels, sheers, white plantation shutters, white wood blinds or delicately patterned cellular shades are among the products that would work well as window covering choices. Make sure they can easily be lifted or pulled aside to let in the light and the scenic beauty that is outside your window.
Typically, the most appropriate floor coverings for coastal homes are hardwoods, laminates and tile (porcelain, ceramic or vinyl). These types of flooring are easy to care for and are more suitable for the coastal lifestyle than wall-to-wall carpeting. Floors that resemble driftwood or shiplap fit in nicely with the theme of a carefree beach home. Vibrant and well-placed area rugs, compatible with the coastal theme, will enhance the look.
Accessories
Your coastal look is not complete without the right accessories. You can accessorize with traditional seacoast items, such as shells, miniature sailboats, driftwood signage, an assortment of bottles or vases in sea-inspired colors. Decorative lamps in seacoast colors, tropical or subtropical potted plants as well as coffee-table books, artwork and sculptures with a coastal or nautical theme are also elements you might want to consider.
However, it's not imperative for your accessories to be thematically tied to a coastal setting. If you like movies, decorate with movie posters. If you like French wine, you can make your coastal home look like a French bistro. The great thing about coastal living is you can make your décor however you want it to be. The optimal guideline is to be informal and uncluttered with an emphasis on an easy, uncomplicated lifestyle.
Find Your Inspiration
For overall inspiration, check out lifestyle magazines such as Coastal Living to identify your favorite coastal decorating looks. Search online at such websites as Pinterest and Houzz for additional ideas. Wonder around antique shops, home décor stores and art galleries in coastal towns to find some thematically appropriate items for your home.
Use these various resources to pick and choose the elements that appeal to you. Ultimately, you'll create a wonderful look that is personal and represents the epitome of coastal living for you.